How to Become a Foster Parent
General Steps
Below are some general steps covering what is involved in becoming a foster parent. Should you decide to become a foster parent, Bill Wilson Center staff will be there to support you throughout the process, and as one of our current foster parents has said, "If you're anxious about it, try it anyway, because you'll love it!"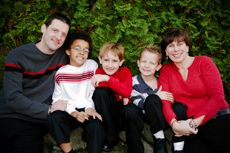 Types of Foster Care Needed
It's helpful to know that there is more than one type of foster care for you to chose from. Below is an overview of the three types of foster home placements Bill Wilson Center is in need of. Bill Wilson Center provides 24/7 on call support and ongoing consultation and training.
Financial Help
Families providing concurrent care receive a stipend to cover the expenses of providing a home for a child that ranges from $800 to $900 a month per child depending on the age of the child.
Families providing care under the Intensive Treatment Foster Care Model receive a stipend of $1,200 to $2,400 a month.
Next Steps
There's no doubt that you have quite a few questions still remaining. We hope that you will contact us to learn more about foster care. You truly can make a huge impact on the life of a child by providing them with the caring home all children deserve.
Call us today at (408) 278-2596 or email inquiries@billwilsoncenter.org.