Volunteer
Make an impact on your community!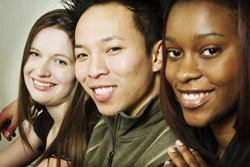 For 40 years, Bill Wilson Center volunteers have increased the effectiveness of our programs. There are a number of ways you can get involved and make a positive change in someone's life by volunteering with Bill Wilson Center.
The house monitor is expected to spend time in the common areas of the house interacting with the residents and assisting resident's responsibilities of daily living (i.e. meal preparation, chores, time management, etc.).
To Become a Bill Wilson Center Volunteer
Contact Volunteer Manager to ask questions and register for volunteer training.
Attend a Volunteer Orientation.
Complete a volunteer application, clear a background check, and be interviewed.
Complete the training series for the program you want to volunteer in.
You are now ready to Volunteer!
For more information on becoming a Bill Wilson Center Volunteer, please contact our Volunteer Program Manager, Heather Rodrigues at (408) 850-6138 or
hrodrigues@billwilsoncenter.org
.