Volunteer
Make an impact on your community!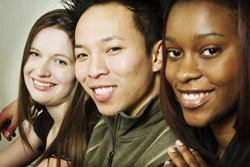 For 40 years, Bill Wilson Center volunteers have increased the effectiveness of our programs. There are a number of ways you can get involved and make a positive change in someone's life by volunteering with Bill Wilson Center.
To Become a Bill Wilson Center Volunteer
Contact Lyndsey Marks to ask questions and register for volunteer training.
Attend a Volunteer Orientation.
Complete a volunteer application, clear a background check, and be interviewed.
Complete the training series for the program you want to volunteer in.
You are now ready to Volunteer!
For more information on becoming a Bill Wilson Center Volunteer, please contact Lyndsey Marks, Volunteer Program Manager at (408) 850-6138 or
lmarks@billwilsoncenter.org
.