Peacock Commons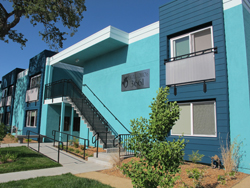 Program requirements:
Peacock Commons serves transition age youth ages 18 – 24.
For more information:
BWC Site Services Office (408) 907-4687
Property Management Office (408) 850-6144
About Peacock Commons:
Peacock Commons provides permanent supportive housing to 45 transition age youth ages 18 – 24. This includes youth who are chronically homeless, at-risk of becoming homeless, aging out of foster care, or victims of domestic violence. A unique component of Peacock Commons, our twenty-eight unit apartment complex, is the inclusion of six mentors who live on the premises and serve as role models for the residents and help facilitate activities.
Residents may access a full range of supportive services on-site including:
Case management
Employment counseling
Independent living skills
Counseling