Parenting Class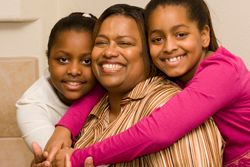 Bill Wilson Center's Parenting Classes are offered to parents of youth ages 12-17.
Classes take place on Saturdays. Reservations are required. To receive services: Please contact Bill Wilson Center at (408) 243-0222 for dates and to register.
About Parenting Classes: One of the keys to unlocking the potential of children is ensuring that parents and caregivers have the skills and resources they need to care for, guide and encourage their children. With an emphasis on communication skills and mutual respect, the Systematic Training for Effective Parenting (S.T.E.P.) program builds meaningful connections between young people and their parents. Our parenting class offers a positive, proven approach to creating resilient children who feel able to meet life's challenges. Parents completing this seven week class learn:
How to respond to inappropriate behaviors.
How to decide "Who owns the problem?"
How to communicate so that your child actually hears you.
How to be an encouraging parent.
How to set limits with appropriate consequences and rewards.
Parenting Classes are held once a week over a seven week period and are offered throughout the year.