Family & Individual Counseling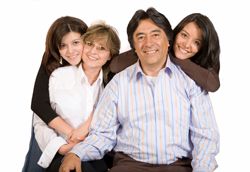 Family & Individual Counseling is available to individuals of all ages residing in Santa Clara County.
To receive services: Contact our Centralized Intake Department please call (408) 850-6145 Monday through Friday between the hours of 9 a.m. - 5 p.m. or REGISTER ONLINE and someone from our Centralized Intake Department will respond to you within two business days. If you are having a medical or psychiatric emergency call 911 or go to the nearest hospital emergency room.
About Family and Individual Counseling: Bill Wilson Center's Family and Individual Counseling address a variety of problems facing individuals such as family conflict, substance abuse, depression, anxiety, stress, out-of-control behavior and school problems. The focus of counselors at Bill Wilson Center is to help clients develop the skills and confidence they need to handle any crisis they may face. We look for the positive in each person and build on those strengths with a "no fail" approach. Counseling services including couples counseling, parenting groups and court-ordered counseling are available to all ages on a sliding fee scale. Counseling is provided in Spanish, Vietnamese, Greek, Japanese, Chinese, Urdu, Hindi, Punjabi and English. Parent Education Groups teach skills for effective parenting including communication, setting boundaries, effective responses to inappropriate behavior and how to nurture resilient children who feel able to meet life's challenges. For more information, please visit our parenting class webpage.