Job Opportunities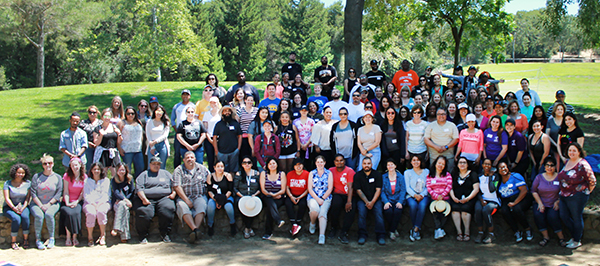 Bill Wilson Center has been recognized as a Bronze Level Family-Friendly Workplace by the County of Santa Clara's Commission on the Status of Women, Office of Women's Policy, and Workplace Collaborative.
This award recognizes BWC's outstanding efforts to create a workplace that supports the needs of working families and your commitment to ensure all of your employees have equal support and every opportunity to succeed and thrive in the workplace.
---
Bill Wilson Center is a nationally and regionally recognized leader for providing services to at-risk youth and families. Our agency -- from our executive team to our line staff -- is committed to improving the lives and conditions of the people we serve. Our staff provides services to more than 5,000 children, youth, young adults and families in Santa Clara County. We reach nearly 33,000 clients through our street outreach and crisis line programs. BWC provides services that meet the cultural and linguistic needs of our whole community. We value our unique ethnic diversity as well as the LGBTQ community and non-able body community. Join us and become a difference maker at Bill Wilson Center!
In addition to the personal rewards of changing the lives of the clients we serve, BWC provides a very competitive salary package as well as employer paid benefits for full time employees (including Medical, Dental, Vision, Life Insurance/AD&D, Long Term Disability, Employee Assistance Plan (EAP) and Travel Assistance Program). We offer 401(k) and 403(b) retirement savings options plans with discretionary employer contributions for qualifying employees! Employees also have the option to elect Flexible Spending Accounts for healthcare, dependent care and commuter expenses or additional voluntary coverage for Life/AD&D, Accident, Short Term Disability, Cancer or Critical Illness insurance. BWC also offers a Staff Wellness Program which provides initiatives and opportunities for overall staff wellness including physical exercise, nutrition, self-care and much more! Our employees currently enjoy free yoga, free lunch and learn sessions, free weekly nutritional breakfast bar, walking groups and CEO hikes, weight loss challenges and access to fresh, local fruits and vegetables!
---
To Apply:
Are you ready to be a difference maker? If you are interested in applying for any of the following opportunities, submit your cover letter and resume to resumes@billwilsoncenter.org.
We prefer to receive all inquiries by email, however, you can also fax your information to (408) 244-4022.
Current Openings
---
LGBTQ Programs
No openings in this program at this time
---
Mental Health Programs
The Clinician 2 is responsible for administrative oversight of the School Linked Services Mental Health program while also carrying a partial client caseload.

Clinician 2 – Youth & Family Crisis and Aftercare Services Become a difference maker and join Bill Wilson Center's NEW Crisis and Aftercare program for youth and family! The Crisis program offers clients 1-3 sessions of short term therapy and the Aftercare program offers mental health services between 3-months to 6-months of therapeutic services. The Clinician 2 will provide mental health crisis intervention services to clients in the community (home, school, etc.). Clinicians will also provide aftercare services to clients following crisis.

The Clinician II provides youth with therapeutic, case management and referral services, and preparation for independent living and maintaining quality services to current and former foster youth engaged in ILP services.
---
Residential Programs
The Intake Counselor reports to the Division Director of Residential Services and is the first point of contact for new youth and their families to introduce them to our services. Creating a welcoming environment that reassures youth and family through challenging times is critical towards the development of trust that begins the process of support and healing as they work towards reunification and achievement of desired goals.

The overnight Residential Counselor cares for and supervises youth housed in our Crisis Residential Shelter by performing the following essential duties and responsibilities. Overnight weekend and holiday coverage required.

RELIEF Residential Counselors provide shift coverage for openings in the Shelter or Quetzal House or THPP/THP+ FC schedule and care for and supervise youth housed in our residential programs by performing the following essential duties and responsibilities when scheduled. There is no set schedule or guaranteed hours for relief workers.

All shifts - Overnight/Weekend Availability Highly Desired!
---
Foster Care Programs
The Social Worker works as part of a team that supports foster families and the children placed with them through a case management model. As a member of the Child and Family Team, you will be part of a dynamic process that works in harmony towards establishing permanency for each child(ren), either through reunification or adoption.
---
Housing Programs
We have an immediate opportunity for a Case Manager for our Transitional Housing Program for Parenting youth. This is a hands-on position that provides important oversight of housing as well as trauma-informed services to clients.

Under the supervision of the Program Manager, the Case Manager is responsible for providing general case management around education; housing, supportive counseling and connections to needed resources and services to clients identifying as LGBTQ and their allies.

The part time Client Support Specialist for the LGBTQ Transitional Living program must have lived experience and be passionate about helping LGBTQ clients connect with appropriate services and role modeling appropriate behavior.

We have an immediate opening for a full time Case Manager for our CAL OES Rapid Re-Housing Program. Case Managers provide intensive case management and supportive services which secures stable housing for homeless youth and families.

The Case Manager provides intensive case management services for young adults ages 18-25. Services provided center primarily around strengthening independent living skills and housing permanency along with career and education development.

Under the direction of the Program Manager and working closely with program direct service staff, the Housing Specialist will provide information and referral services for housing and other community services to youth in the program and will ensure connection and retention to housing resources. Part Time 20 hours per week.

The Residential Counselor cares for and supervises youth housed in Interim Housing

Tuesday - Saturday and Sunday 12:30 AM - 9:00 AM

The RELIEF Peer Mentor pool provides coverage for swing and overnight shift openings in Bill Wilson Center's Interim Housing, Homeless Respite and Young Adult Shelter programs (all located in/near downtown San Jose). The RELIEF Peer Mentor is not a full time position, but provides relief/coverage for open shifts – hours, if any, are based on availability of open shifts. Swing shift and awake overnight work is required and looking for candidates available between 5 p.m. and 9 a.m.

Under the direction of the THP Program Supervisor, the RELIEF Residential Counselor cares for and supervises youth housed in SCC Interim Housing.
---
Independent Living Program (ILP)/HUB
The Case Manager reports to the Program Manager and is responsible for providing services and engaging youth in program.
---
Youth Development
No openings in this program at this time.
---
Drop-In Center Programs
Under the supervision and direction of the Program Manager and Program Supervisor at the Drop In Center, the Outreach Case Manager conducts street outreach throughout Santa Clara County and engages homeless minors, young adults and homeless families with young adults as head of households, including those that are unsheltered.

Under the supervision of the Drop In Center Program Manager. The RELIEF Peer Mentor is not a full time position, but provides relief/coverage for open shifts at the DIC Respite program (overnight) – hours, if any, are based on availability of open shifts.

Under the supervision and direction of the Program Manager and Program Supervisor at the Drop In Center, the RELIEF Peer Counselors provide coverage and relief for staff on PTO, leaves, etc..
---
Counseling Programs
The Family Therapist/Case Manager provides youth and families with therapy, case management, referral services, and skills-building to improve life domain functioning. The Child Abuse Therapy Program (CHAT), a component of the Family and Individual Outpatient Program at BWC, provides services to children and youth who have suffered from emotional, social and behavioral problems as a result of being victims of abuse, neglect, violence and or exploitation. This position reports to the Director of Counseling Services.

The RELIEF Call Specialist will support the Contact Cares/Centralized Intake program by filling in shifts that need to be covered. The RELIEF Call Specialist will perform basic administrative duties, take calls when no volunteer is available and provide Centralized Intake services.
---
Administration
Reporting to the Director of Program Quality Improvement, the Quality Assurance/Quality Improvement Manager is responsible for leading department efforts and developing systems towards compliance, quality control and improvement of the Mental Health Division. This position works closely with the Training Manager and oversees all aspects from staff training to productivity among multiple mental health services.
---
Community Resources
The Temporary Administrative Assistant provides support to the Community Resources department including data entry of donor gifts, donor relations, community engagement, and support for department events. This includes support of the agency's Building Dreams fundraising event in May 2019.
---
Independent Contractors
No openings at this time.
---
EEO:
Bill Wilson Center is an Equal Opportunity/Affirmative Action Employer.