Adopt-A-Family Holiday Giving Program
Contact us at (408) 850-6143 or adoptafamily@billwilsoncenter.org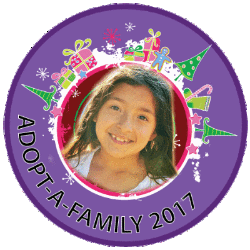 Thank you for providing holiday cheer to a record number of foster youth ... more than 2,100 local youth and their support families. Churches, school groups, local businesses, corporations, individuals and families all were participants.

Donors were matched to youth identified by social workers as the neediest children for this program and BWC provided donors with profiles providing the age, gender, sizes for clothing and shoes, interests, needs and wants of the children. These youth had been removed from their families due to abuse or neglect; our goal is to simply provide a bit of extra joy during the holiday season.
MONETARY DONATIONS AND GIFT CARDS ARE STILL NEEDED to fulfill last minute requests for support.
Please use the Adopt-A-Family donation button to make your gift or drop your gift cards off at Bill Wilson Center's main office located at 3490 The Alameda, Santa Clara, CA 95050.
Thank you!
Also, check out our Amazon Wish List here.