Peacock Commons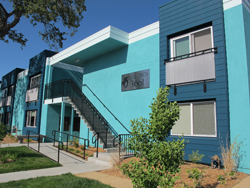 Program requirements:
Peacock Commons serves transition age youth ages 18 – 25.
To receive services:
For more information or to be placed on a wait list, please call (408) 907-4687.
About Peacock Commons:
Peacock Commons is a twenty-eight unit apartment complex that provides permanent supportive housing to transition age youth ages 18 – 25. This includes youth who are chronically homeless, at-risk of becoming homeless, aging out of foster care, or victims of domestic violence. A unique component of Peacock Commons is the inclusion of six mentors who live on the premises and serve as role models for the residents and help facilitate activities.
Residents may access a full range of supportive services on-site including:
Case management
Employment counseling
Independent living skills
Counseling
Video Diary
We've kept a video diary of the renovation process Peacock Commons underwent prior to opening in May of 2012. Please feel free to peruse the videos on our Peacock Commons YouTube channel for a peek at just how much work went into this project.