Green Light Rally and Walk - November 2017
Lighting the Way Home!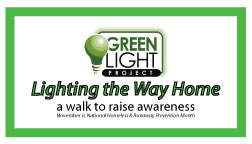 Join the hundreds of people who will take part in this year's walk and rally, raising awareness about the plight of our youth living on the streets every night in Silicon Valley.
November is Homeless & Runaway Prevention  Month and even with the Green Light Walk being over, the issue of youth homelessness persists and needs our continued vigilance to end this problem.
On any given night nearly 2,500 youth and young parent families are forced to survive on the streets of Santa Clara County.
Let's work together and find a solution.