Job Opportunities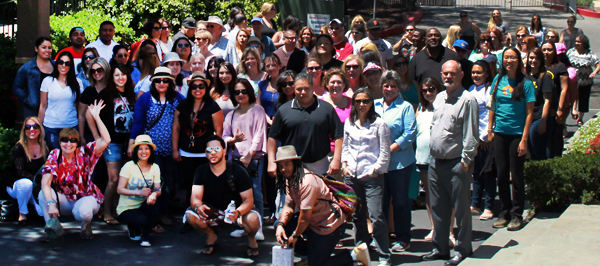 Bill Wilson Center is a nationally and regionally recognized leader for providing services to at-risk youth and families. Our agency -- from our executive team to our line staff -- is committed to improving the lives and conditions of the people we serve. Our staff provides services to more than 5,000 children, youth, young adults and families in Santa Clara County. We reach nearly 33,000 clients through our street outreach and crisis line programs. BWC provides services that meet the cultural and linguistic needs of our whole community. We value our unique ethnic diversity as well as the LGBTQ community and non-able body community. Join us and become a difference maker at Bill Wilson Center!
In addition to the personal rewards of changing the lives of the clients we serve, BWC provides a very competitive salary package as well as employer paid benefits for full time employees (including Medical, Dental, Vision, Life Insurance/AD&D, Long Term Disability, Employee Assistance Plan (EAP) and Travel Assistance Program). We offer 401(k) and 403(b) retirement savings options plans with discretionary employer contributions for qualifying employees! Employees also have the option to elect Flexible Spending Accounts for healthcare, dependent care and commuter expenses or additional voluntary coverage for Life/AD&D, Accident and Short Term Disability. In 2015, BWC's launched our Staff Wellness Program which provides initiatives and opportunities for overall staff wellness including physical exercise, nutrition, self-care and much more! Our employees currently enjoy free yoga, free martial arts, free lunch and learn sessions, walking groups, weight loss challenges and access to fresh, local fruits and vegetables via weekly veggie truck visit!
---
To Apply:
Are you ready to be a difference maker? If you are interested in applying for any of the following opportunities, submit your cover letter and resume to resumes@billwilsoncenter.org.
We prefer to receive all inquiries by email, however, you can also fax your information to (408) 244-4022.
Current Openings
---
Mental Health Programs
Under the direction of the Division Director, the Director of Youth & Family Mental Health Services oversees and supervises the Youth and Family Mental Health programs, provides clinical guidance and culture of client driven services; supervises essential administrative, budget, and clinical staff. This leadership position guides the clinical team in providing direct care services and provides support to the Division Director as needed. This position directly manages the following program/services: intensive outpatient services, crisis intervention program, multiple outpatient services, and TBS.

Become a difference maker and join Bill Wilson Center's NEW Crisis and Aftercare program for youth and family! The Crisis program offers clients 1-3 sessions of short term therapy and the Aftercare program offers mental health services between 3-months to 6-months of therapeutic services. The Clinician 2 will provide mental health crisis intervention services to clients in the community (home, school, etc.). Clinicians will also provide aftercare services to clients following crisis.

The Clinician 2 provides youth with case management and referral services, and preparation for independent living and also provides mentoring for Mental Health Specialist I's in developing and maintaining quality services to TAY clients.

The Family Wellness Trainer/Parent Partner provides peer support to family members of youth receiving School Linked Services and Intensive Outpatient Services. The Family Wellness Trainer/Parent Partner is REQUIRED to have lived experience as a parent, grandparent or foster parent dealing with mental health issues.

The Family Wellness Trainer/Parent Partner partners with parents/family members as a peer advocate to increase empowerment in getting their needs met. As a crucial part of the provider team, the Family Wellness Trainer/Parent Partner engages families in services and works with caregivers individually so they can better support the youth in their lives. These services can include Special Education, Mental Health Services, Human Services such as CPS or Child Welfare, Juvenile Justice or Probation.

The Mental Health Administrative Assistant provides administrative support to Mental Health programs including, but not limited to, filing, data entry and documentation maintenance. In addition, supports program and staff.
---
Residential Programs
The Program Manager supervises Residential Counselors and Relief/On-Call Residential Counselors and cares for youth housed in our Quetzal House.

The Residential Counselor cares for youth housed in Quetzal House by performing the following duties. Some awake overnight and weekend coverage may be required.

SUNDAY – THURSDAY, 7:30 a.m. to 4 p.m.

The Residential Counselor cares for and supervises youth housed in our Crisis Residential Shelter. Weekend and holiday coverage required.

Sunday – Thursday 3:30 p.m. – 12:00 a.m.
Tuesday - Saturday 3:30 p.m. – 12:00 a.m.

RELIEF Residential Counselors: Crisis Residential Shelter (Santa Clara) and Quetzal House (Mountain View) – All shifts - Overnight/Weekend Availability Highly Desired.

RELIEF Residential Counselors provide shift coverage for openings in the Quetzal House and care for and supervise youth housed in our residential programs. There is no set schedule or guaranteed hours for relief workers. The hours are 11:00 pm – 7:30 am.

Sunday/Monday coverage needed
---
Foster Care Programs
---
Housing Programs
The program provides intensive community-based services to young adults (ages 18-25) identified as having the highest housing needs in San Clara County, and relies on a diverse staff and innovative program model to effectively meet the needs of this underserved and often marginalized population. Specific supports and services offered by this team for TAY housing include: case management/referral to mental health services, housing search, skill building (independent living, vocational, community safety, and emotional/behavioral), socialization and recreational activities, peer and family relationship building, academic support and coordination, employment exploration, and permanent housing search support.

The Housing Specialist will be responsible for locating housing for homeless families The Specialist is required to work quickly and independently in the fast paced housing market in Santa Clara County in order to secure housing for families. In addition to locating housing, you will conduct housing inspections, negotiate, and build relationships with landlords, collaborate with community partners, as well as be personable and informative about the BWC programs when engaging with the public.

Under the direction of the THP Program Supervisor, the RELIEF Residential Counselor cares for and supervises youth housed in SCC Interim Housing.
---
Independent Living Program (ILP)/HUB
The Program Manager of ILP/HUB plans, organizes, and directs delivery of services to youth participating in the Independent Living Skills Program (ILP) and supervises and works with Case Managers in developing and maintaining quality services to youth in the program.
---
Drop-In Center Programs
Under the supervision of Director of Youth Development, the Latino MSM Outreach Worker is responsible for outreach services to gay Latino youth and young adults, program evaluation and reporting.

The Peer Outreach Counselor for Latino MSM must have lived experience and be passionate about prevention, GBTQ leadership, and health equity. Ensure that highly marginalized GBTQ clients who are vulnerable to have access to services including testing, access to PrEP and counseling. The Peer Outreach Counselor will work in the field at a variety of locations conducting a range of services from community outreach and education to HIV test counseling, PrEP, and benefits navigation. The Peer Outreach Counselor will play an important role in promoting the health and well-being of GBTQ youth in the community.

Under the supervision of the Program Manager Drop In Center, the Peer Mentor cares for young adults in the Drop In Center respite overnight. Friday-Tuesday 9:00 pm – 6:00 AM

Under the supervision and direction of the Program Manager and Program Supervisor at the Drop In Center, the RELIEF Peer Counselors provide coverage and relief for staff on PTO, leaves, etc..

Under the supervision of the Drop In Center Program Manager. The RELIEF Peer Mentor is not a full time position, but provides relief/coverage for open shifts at the DIC Respite program (overnight) – hours, if any, are based on availability of open shifts.
---
Counseling Programs
The Call Specialist (Part Time) for Contact Cares/Centralized Intake handles high risk/crisis calls and provides specialized support and intake services to clients who call for services. In addition, provides support to volunteer Telephone Counselors assigned to the program.

The RELIEF Call Specialist will support the Contact Cares/Centralized Intake program by filling in shifts that need to be covered. The RELIEF Call Specialist will perform basic administrative duties, take calls when no volunteer is available and provide Centralized Intake services.
---
Community Resources
The Grant Writer supports the revenue generating efforts of Bill Wilson Center by effectively writing, compiling and submitting corporate, foundation and government grant proposals.
---
Administration
---
EEO:
Bill Wilson Center is an Equal Opportunity/Affirmative Action Employer.