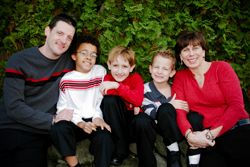 BWC's Foster Care Program has moved over to our partner agency, Uplift Family Services.
Any family or person regardless of religious affiliation or whether or not they are male or female, single or married or identify as LGBTQ is able to foster or adopt a child or teen.
A foster parent should be ready to provide a stable, loving residence whether that be a house, apartment or mobile home. Ideally, a foster parent's first priority is to help ensure the best outcome for the child or teen, whether that be reunification with a safe family member or adoption.
It's not uncommon to have reservations about fostering a child or teenager. Many of the families who now serve as foster parents with us had a lot of questions in the beginning. Uplift Family Services' foster recruiters are happy to talk with you over the phone to answer your questions.