Green Light Rally and Walk
November 1, 2013 - What a Night!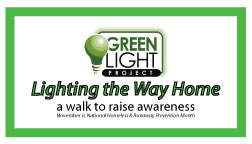 Nearly 200 came.
Took the first step.
Joined the walk and rally.
Showed support for youth.
Created Change.
THANK YOU!
On any given night there are more than 1,200 homeless youth on the streets of Santa Clara County.
To raise awareness about the high number of homeless youth in Santa Clara County, nearly 200 people came to our inaugural Green Light Project Rally & Walk. The rally, held in the San Jose City Council Chambers, was highlighted by speeches from the San Jose Youth Commission, San Jose Councilmember Sam Liccardo, County Supervisor Cindy Chavez, our CEO Sparky Harlan and Danny, a former homeless youth. After the rally, a festive one-mile walk was completed through downtown San Jose to our Drop-In Center.
You can see two San Jose Youth Commissioners speak about the issue of homeless youth and the Green Light Project during the open forum portion of the Oct. 22 San Jose City Council meeting by opening the following link and going to the very end of the video presentation (3:49:10).
http://sanjose.granicus.com/MediaPlayer.php?view_id=51&clip_id=6892