Workshops
Foster Family Orientation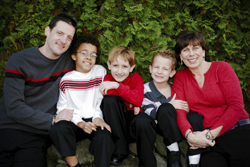 Bill Wilson Center is a non-profit Foster Family Agency placing abused and neglected children from the child welfare system into loving and caring homes through our foster care and adoption programs. We are a therapeutic agency, meaning our emphasis is on the matching process and providing ongoing training and support to foster and adoptive families.
We host a no-obligation Foster Family Informational Meeting on the first Thursday of each month for those interested in learning more about becoming a foster family. This orientation will address issues that may force a child to be removed from their biological family, the various types of foster family placements, and what to expect should one decide to become a foster family.
For more information or to register for the orientation, please contact our Recruitment Coordinator toll free at 888-922-KIDS (5437).
For more information on our Foster Care Program, please click here: Foster Care
For more information on our Adoption Program, please click here: Adoption