Safe Place Community Outreach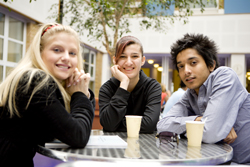 Program requirements:
Bill Wilson Center's Safe Place Community Outreach program serves youth ages 12-17 residing in Santa Clara County.
To get involved:
Please contact Bill Wilson Center at (408) 243-0222 and ask for Deryk Clark, Safe Place Program Manager.
About Safe Place Community Outreach:
The Safe Place Community Outreach program gives San Jose teens ages 12-17 the opportunity to become leaders through meaningful connections to adults and success in community outreach projects. Teens develop leadership skills, goal setting, conflict resolution, teamwork and effective communication skills in a hands-on, real life environment. Working in teams in their own neighborhoods, SPCO members plan and execute community service projects that publicize the Safe Place message. In past years, teens have organized a carnival for homeless youth, hosted a poster contest for Safe Place, given radio interviews about Safe Place and conducted four successful youth fashion show fundraisers.
In addition to spreading the Safe Place message, teens in the SPCO program benefit from meeting new people, earning community service hours and having the opportunity to really make a difference. SPCO is a big commitment with even bigger rewards.
About Project Safe Place:
Safe Place locations include many schools, community centers, 7/11 Stores, Round Table Pizza, Armadillo Willy's, Safeway stores, Taco Bell, fire stations and all public buses and light rails in San Jose. When a child requests help, trained staff and volunteers respond promptly and with appropriate help. Safe Place is a national program, for more information on the National Safe Place program, please visit: www.nationalsafeplace.org.