Calendar
Open House - BWC Connections
Thursday, June 22, 2017 4:00 pm - 7:00 pm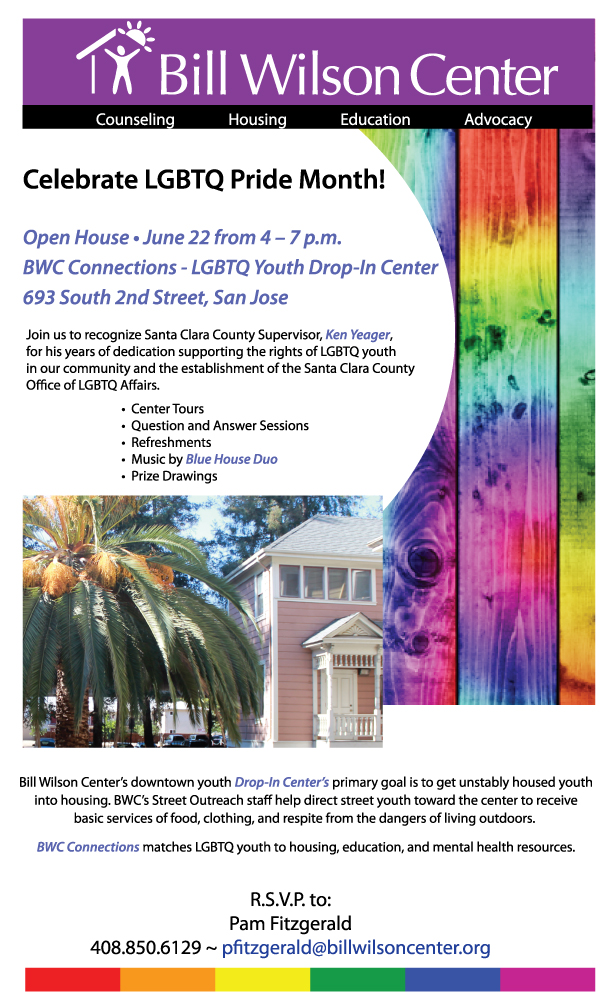 Location:
693 S. 2nd Street, San Jose, CA 95112
Description:
Celebrate Pride Month!
Open House • June 22 from 4 – 7 p.m.
BWC Connections - LGBTQ Youth Drop-In Center
693 South 2nd Street, San Jose

Join us to recognize Santa Clara County Supervisor, Ken Yeager,
for his years of dedication supporting the rights of LGBTQ youth
in our community and the establishment of the Santa Clara County
Office of LGBTQ Affairs.

• Center Tours
• Question and Answer Sessions
• Refreshments
• Music by Blue House Duo
• Prize Drawings

Bill Wilson Center's downtown youth Drop-In Center's primary goal is to get unstably housed youth
into housing. BWC's Street Outreach staff help direct street youth toward the center to receive
basic services of food, clothing, and respite from the dangers of living outdoors.

BWC Connections matches LGBTQ youth to housing, education, and mental health resources.