Volunteer
Chat 4 Teens Peer Counselor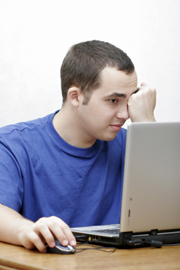 Do your friends come to you when they need advice?
Do you enjoy problem solving and helping others?
Do you want to give back to your community and help your peers?
Become a Peer Counselor for Chat 4 Teens!
We are looking for caring, mature high school juniors and seniors to volunteer as peer counselors in our Chat 4 Teens program.
Chat 4 Teens offers teens the chance to chat with a supportive, non-judgmental listener in an online instant message format.
Peer Counselors will be taught how to chat with teens in crisis and will receive training on the common stresses, problems, and issues that teens face such as:
Depression
Relationship Problems
Stress
Abuse
Loneliness
For more information on becoming a Chat 4 Teens Peer Counselor, please contact Heather Rodrigues, Volunteer Program Manager, at (408) 850-6138 or hrodrigues@billwilsoncenter.org.